Vietnam Test of Li and NiMH Batteries Powering a Sun Frost RFVB-134a Vaccine Storage Refrigerator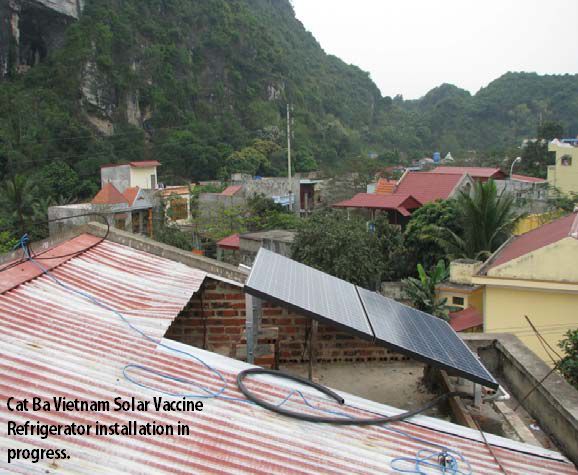 For solar powered vaccine storage refrigerators installed in developing countries, batteries are the weak link in the system. Lithium Phosphate (Li) and Nickel Metal Hydride (NiMH) have the potential of lasting 10 to 20 years. The life of a lead acid battery can vary significantly, from 3 to 20 years. A project supported by PATH tested two refrigeration systems. Both incorporated Sun Frost RFVB-134a refrigerators, one with Li batteries and the second with NiMH. The battery banks incorporated some custom electronics so that the batteries could be charged with photovoltaics.
Problems were encountered with both the NiMH and Li batteries. Failure of the NiMH batteries were catastrophic, the Li batteries had some cell failure which had to be replaced. Currently the Li powered refrigerator is still in operation. The batteries on the NiMH were replaced by lead acid batteries. NiMH deserve further testing in light of there excellent track record in the Toyota Prius. When using lead acid batteries the ancillary electronics required is minimal. This minimizes the probability of failure, particularly in areas with lighting storms.
Temperatures were monitored at two points in the Sun Frost refrigerator. The measured temperatures were very stable even with changing ambient conditions. The accompanying graph illustrates the stable performance of the Sun Frost.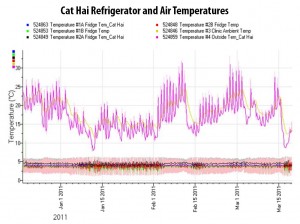 Sun Frost is working on a vaccine storage refrigerator, which incorporates load shedding. This device will control the load so that the batteries are shallow cycled. A temperature controlled battery compartment could also be incorporated into the device. A 10 deg C, 18 deg F, rise in temperature could half battery life. With these controlled conditions we expect the life of high quality lead acid batteries to be near 20 years. This load shedding system strategy could be used with Li or NiMH batteries. With load shedding the size of the battery bank can be reduced by about 80% making the use of relativity expensive high quality batteries more feasible.
This project was supported by PATH. A copy of the final report is available here: