Sun Frost Heat Dump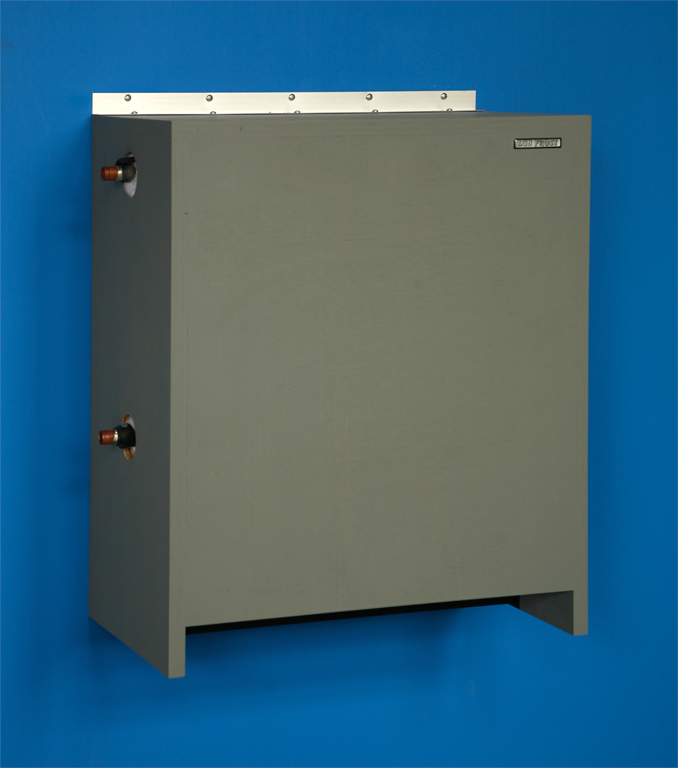 Many solar hot water systems incorporate heat transfer fluids for freeze protection.  This fluid is heat sensitive.  During periods of high insolation (sunlight) and low system usage, the heat transfer fluid can overheat.  Overheating is a particular problem in systems which provide both domestic hot water and space heat since heat production is increased and the demand is decreased during the summer.  Sun Frost has developed a simple to use device to dissipate this excess heat, the Sun Frost Heat Dump.
The Sun Frost Heat Dump incorporates a fan coil heat exchanger.  The air inlet and exhaust are located at the bottom of the heat exchanger.  The eliminates heat losses when the fans are not running.  This design allows the heat exchanger to be placed directly in the collector's loop.  No diverter valves are necessary.
Simple installation – place in series with panel output.
No heat is lost when fans are off; fans are thermostatically controlled.
Eliminates the need for motorized diverter valves, longer pipe runs and additional fittings.
Can be run directly off PV, heat is diverted even when grid power is lost.
When wall mounted on an interior wall, heat can be directed through a plenum (separate space) to the outside.
With the output of a solar collector at 180 deg F, it will dissipate between 13,000 Btu/hour and 19,000 Btu/hour depending on water flow rate.
The Sun Frost Heat Dump is 19.5″ wide, 22.5″ high, and 11″ deep.  Brackets provide easy wall mounting as shown or with the narrower section against the wall.
Could also be used as a fan coil space heater.