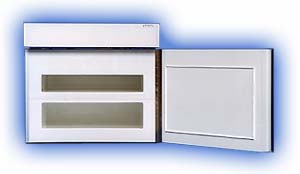 Sun Frost RFVB134a Solar Powered Vaccine Storage DC Refrigerator Freezer World Health Organization PIS Approved
Sun Frost is also an approved UNICEF system supplier
Most efficient refrigerator in its size range
Runs on either 12 volt or 24 volt DC
Lowest system cost: Fewer solar panels and batteries to purchase, transport, and install
Rugged construction for remote service
Rustproof cabinet and hardware, all copper cooling system prevents corrosion
Easy to defrost and clean: more convenient than chest models
Evaporator is unexposed – cannot be punctured during defrosting
Condenser is easy to clean and minimallyaffected by dust and cobwebs
Reliable: compressor is the only moving part – no fans are necessary
Excellent temperature control
Reserve cooling capacity: runs only 27% of the time in a hot 43° C (110° F) environment
Most efficient DC vaccine refrigerator in its size range
Packing Crate can be turned into a sturdy table for the DC vaccine refrigerator
Reliable: Many Years of Trouble Free Operation


Sun Frost refrigerators have proved themselves reliable. Over the past 12 years they have been installed in over 50 developing countries and have held up under the harshest conditions. For critical applications, far from supporting infrastructure, from Borneo to Botswana, Sun Frost refrigerators have delivered consistently dependable performance day in and day out.
For the past 12 years Sun Frost refrigerators/freezers have been used in over 50 countries and have an excellent track record. Sun Frost DC vaccine refrigerators are very ruggedly constructed and will provide many years of reliable operation, even in the harshest environments.
The sole moving part in the Sun Frost RFVB DC vaccine refrigerator is a hermetically sealed compressor. The brushless motor used in the DC models eliminates periodic servicing. If servicing is ever necessary, the simplicity of the cooling system and the accessibility of the compressor make it a simple matter.
Life expectancy of a compressor is lowered primarily by high condenser and oil temperatures. The Sun Frost refrigerator, with its top mounted cooling system, allows room for air to freely circulate and effectively cool the compressor and oversized condenser. Conventional cooling systems, mounted in confined spaces on the side or below the refrigerator, will run considerably hotter, lowering compressor life.
Also contributing to the longevity of the cooling system is the compressor's low percentage run time, only 19% in a 32° C (90° F) room.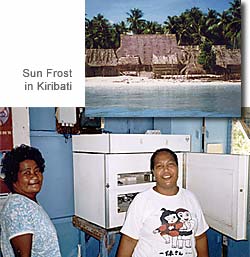 The low energy consumption of the RFVB DC vaccine refrigerator allows the use of a smaller and more reliable battery for the funds expended. In a photovoltaic refrigerator system, the battery bank is the component with the shortest expected life. A battery may last from 2 to 15 years, depending on the quality of the battery and how it is used and maintained. Battery life is extended by decreasing the degree to which the batteries are discharged.
No Fossil Fuels
The Sun Frost RFVB DC vaccine refrigerator provides a means of storing vaccines and medical supplies without the use of fossil fuels. Not only is the need for a fuel supply eliminated, but the unit operates more reliably than kerosene powered refrigerators.
The refrigerator is typically powered by a photovoltaic charged battery bank. This reliable power source is dependent only on sunlight, which is in abundance in most developing nations. Alternatively, the system's batteries may also be charged by wind, hydro power, or a small generator. If portability is important, the refrigerator may be run by car or truck batteries.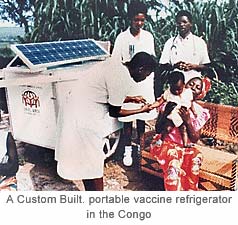 In areas where utility power is intermittent but where it is important to maintain reliable refrigeration, the system's batteries may be powered by a small battery charger powered by utility power.
RFVB: The Most Efficient Refrigerator
The cost of a solar power system is typically more than the cost of the refrigerator, so efficiency is of prime importance in reducing system costs. As a result of the low energy consumption of the Sun Frost RFVB DC vaccine refrigerator, the cost of the power system will be reduced by more than US$700.00. Our RFVB vaccine storage refrigerator is the most efficient DC refrigerator of its size range.
The Sun Frost RFVB DC vaccine refrigerator employs unique design innovations to achieve its exceptionally low energy consumption. The heart of the system is a highly efficient compressor and condenser. Top mounting the cooling system lowers the energy consumption in two ways: (1) heat gain into the cabinet is reduced and (2) the lower condenser temperature increases the efficiency of the cooling system.
The walls of the RFVB DC vaccine refrigerator contain four to six inches of polyurethane foam insulation - the best insulation commercially available. Unlike many other refrigerators, the insulating value of the walls of the RFVB are not lowered by metal supports between the inner and outer cases.
The top mounted condenser on the Sun Frost RFVB DC vaccine refrigerator is accessible and easy to clean, allowing the cooling system to continue running efficiently. The efficiency of the cooling system is further increased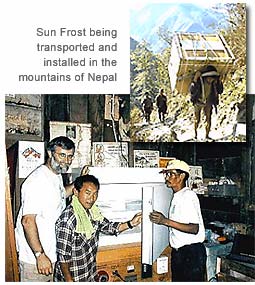 by eliminating the need for fans, which consume energy and generate unwanted heat and noise. Furthermore, dust and cobwebs which collect on the intricate surface of the back or bottom mounted condenser of conventional refrigerators reduce the effectiveness of their cooling systems.
Efficiency Reduces System Costs to Lowest Available
To produce one amp hour of electrical energy per day in the U.S. requires an investment of $45.00 in a PV system. In a developing country this cost may be considerably higher.
Ice Storage Further Increases System Reliability
The relatively large freezer in the RFVB DC vaccine refrigertor can easily hold 12 kilograms of ice. This ice may be transferred to the refrigerator section if the cooling system is not in operation due to refrigerator failure, loss of power, or an exceptionally long overcast period.
The 12 kilograms of ice now stored in the super-insulated refrigerator section will keep the stored vaccines cold for approximately nine days. If the system's batteries are low because of extremely bad weather, this nine day period should be sufficient to let the batteries recharge. Without ice storage, it would be necessary to purchase additional batteries to maintain the vaccines during prolonged overcast conditions.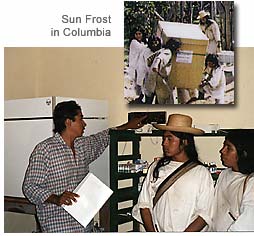 Defrosting: A Simple Matter
When defrosting is needed, it is fast and easy. Just turn off the refrigerator for about 30 minutes. Since ice forms only on the flat, easily cleaned surfaces, it comes off in large pieces. There are no irregular shapes and ducts to grip and hold the ice, and no water to mop up.
The evaporator in the RFVB DC vaccine refrigerator is protected by a fiberglass liner and cannot be punctured while defrosting, a common problem in many manual defrost refrigerators.
RFVB Efficient Cooling System
The temperature of the refrigerator section is tightly controlled for vaccine storage. The large capacity freezer section can produce 2 kilograms of ice per day in a 43° C (110° F) environment running only 42% of the time. Ice is produced very efficiently in the RFVB DC vaccine refrigerator; only 6 amp. hours are typically consumed to produce one kilogram of ice. Competing models use nearly twice as much energy for ice production.
The evaporator design contributes significantly to the efficiency of ice production. Containers being frozen make direct contact with the evaporator molded into the floor of the freezer section. A second evaporator in the ceiling of the freezer effectively cools the contents of the freezer by convection.
In a chest type freezer, it is difficult to make direct contact with the evaporator for effective conductive cooling. Also, in a chest type freezer convection is less effective because the evaporator cannot be mounted above the freezer.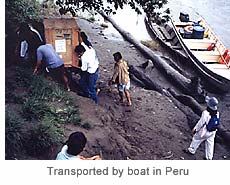 The freezer section of the RFVB DC vaccine refrigerator is isolated from the refrigerator compartment by three inches of polyurethane insulation. This feature prevents stored vaccines from being heated when warm water is placed in the freezer, a problem in refrigerators of conventional design.
In addition to efficiency, the RFVB DC vaccine refrigerator design offers convenience. Stored vaccines are much more accessible than they are in chest models. Health workers generally find the vertical design much more acceptable.
Dimensions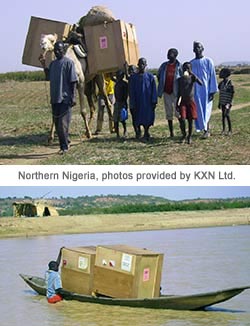 Vaccine Storage Capacity: 38.7 liters as measured by the World Health Organization (The World Health Organization measures internal volume with specific size containers & container spacing. Using that method, the RFVB has a 38.7 liter capacity.)
Freezer dimensions: Volume 34 liters (1.2 cu. ft.), 10.2 high x 66.0 wide x 50.8 deep cm (4 x 26 x 20 in.)
Refrigerator dimensions: Volume 51 liters (1.8 CF), 16.5 high x 66.0 wide x 50.8 deep cm (6.5 x 26 x 20 in.)
Shipping weight crated for export: 91 kilograms (200 pounds)
Shipping volume crated for export: 0.71 cubic meters (25 cubic feet)
Export crated dimensions: 97.4 x 100.0 x 79.5 cm (38 x 39 x 31 in.) – Units may be stacked two high for ocean shipments.
Energy Consumption

Room Temperature
21° C (70° F)
32° C (90° F)
43° C (110° F)
Energy Consumption (12 volt)
14 amp hours/day
23 amp hours/day
.28 kWh/day
36 amp hours/day
.43 kWh/day
Energy Consumption (12 volt) making 2.2 kg ice/day
32 amp hours/day
.38 kWh/day
51 amp hours/day
.61 kWh/day
Refrigerator Temperature
3° C (38° F)
3° C (38° F)
3° C (38° F)
Freezer Temperature
-11° C (12° F)
-9° C (15° F)
-5° C (23° F)
Running Current: 4.5 amps for 12 volt system, 2.3 amps for 24 volt system
Starting Current: 15 amps for 12 volt system, 7.5 amps for 24 volt system
Wiring should be designed for 15 amp load for 12 volt system, 7.5 amps for 24 volt system
---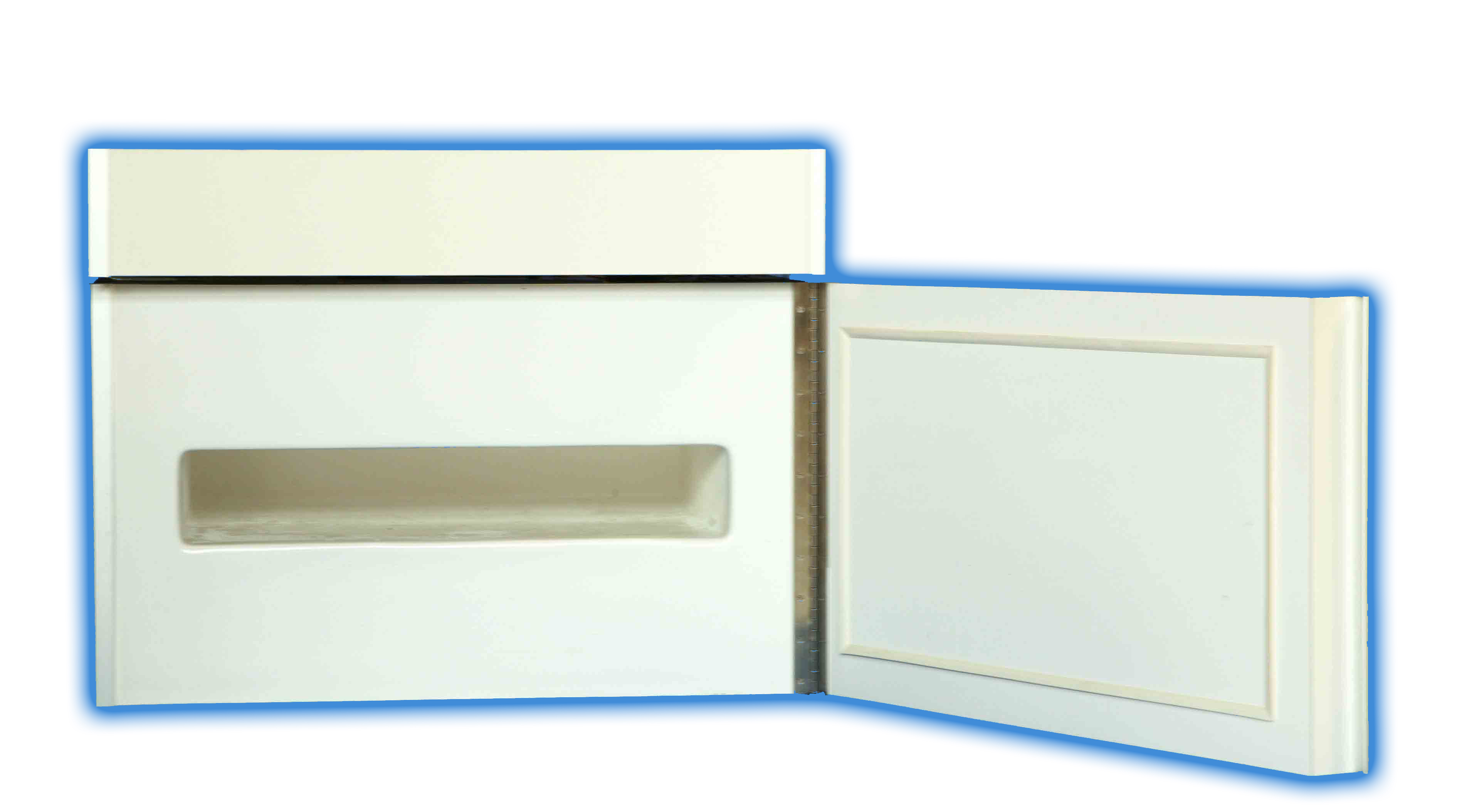 Sun Frost F1 Direct Drive, Battery Free, Ice Pack Freezer
Sun Frost is also an approved UNICEF system supplier
Newly designed cooling system allows the compressor to operate in cloudy weather
Will run on a single 140 watt module in most locations
Heavily insulated to minimize night time warming
Rugged construction typically provides over 25 years of service
Rustproof cabinet and hardware, all copper cooling system prevents corrosion
Simple to install
Evaporator is unexposed – cannot be punctured during defrosting
Condenser is easy to clean and minimally affected by dust and cobwebs
Water Pack Freezing for Remote Locations

The Sun Frost F1 has been tested by SELF, the Solar Electric Light Fund, in Columbia for the past 2 years. The F1 performed admirably throughout the entire test. Funding was provided through a grant from the Bill & Melinda Gates Foundation.
Sun Frost is now offering the "F-1" Direct Drive, battery free, Ice Pack Freezer. It incorporates some unique technologies which allow it to operate even during overcast conditions. Most direct drive refrigerators will not start to operate until the output of the solar module approaches 50 watts, as a result a very large and expensive array is required to make the freezer operate in less than full sun conditions. Our technology is also beneficial on a sunny day because it extends the freezer runtime at the beginning and end of the day; it will start operating earlier in the day and still run closer to sunset.
The freezer is heavily insulated with an average of 5 inches of insulation; this decreases the warming of ice packs at night. Extending the run time during the day also helps reduce nighttime warming of the ice packs. On an overcast day with only 3.5 peak sun hours a single, 140 watt panel, will enable the F-1 to freeze 3 kg of ice by sunset. The next morning, some ice will melt, and the net ice production will be about 2.4 kg. If this ice is not removed from the freezer by sunset the next day the ice packs will be cooled well below freezing. These sub cooled ice packs will increase in temperature to near 0 deg C overnight, as a result no melting over night.
The freezer is ruggedly built with methods developed over the past 25 years and should give at least 25 years of service.
The freezer has a gross capacity of 28 liters or 1 cubic foot. It will hold about 20, 0.6 liter ice packs and 10, 0.3 liter ice packs or a total of 15 liters of net storage capacity ice packs.
Denis Maire (Quality, Safety and Standards at WHO) recently reported that initial tests on the Sun Frost F-1 in Colombia indicated that the freezer was "running beyond user expectations".
Dimensions

Ice Pack Storage Capacity: 15 liters of Ice Packs
Freezer dimensions: Volume 28 liters (1 cu. ft.), 10.2 high x 66.0 wide x 50.8 deep cm (4 x 26 x 20 in.)
Shipping weight crated for export: 75 kilograms (165 pounds)
Shipping volume crated for export: 0.8 cubic meters (27 cubic feet)
Export crated dimensions: 91.4 x 91.4 x 81.3 cm (36 x 36 x 32 in.) – Units may be stacked two high for ocean shipments.