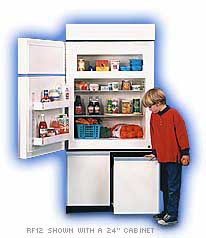 We recommend using a cabinet below your Sun Frost refrigerator/freezer to elevate the refrigerator to a more convenient height, while providing storage room for dry goods. A cabinet 12" to 16" high works well with our RF16 or RF19 models. For our RF12, we recommend a cabinet 18" to 24" high. Our 4 cubic foot and 10 cubic foot models can be placed on top of existing cabinets, or at a height of about 36".
Sun Frost offers 13" and 24" high cabinets with two side-by-side sliding drawers, which can be made in laminates or woods to match your refrigerator. We also offer a 4" stand for areas in which there is not enough overhead space to install a full cabinet. The 4" stand is open in the front and creates a kick space under the refrigerator.
If you choose to build your own cabinet, it should be constructed of a minimum 3/4" plywood for sufficient strength.
Base Cabinet Dimensions

Base Cabinet Crated Dimensions

Model

Height

Width

Depth

Model

Height

Width

Depth

Volume (CF)

Weight (lbs.)

4" stand

4"

34.5"

27.75"

4" stand

6"

37"

30"

3.9

25

13" cab

13"

34.5"

27.75"

13" cab

16"

37"

30"

10.3

60

24" cab

24"

34.5"

27.75"

24" cab

31"

37"

30"

16.7

125